Production & Craft Services
We are experienced Production Caterers. We started catering for production back in 2006 and since then we have worked with multiple production companies on both small and large projects including Commercials, Television, Music Videos, Promos, Feature Films and Online Digital. Whether you're shooting at your main studio or out on location, Steven Marshall Productions will prepare, deliver, set up and serve fresh and delicious food where you need it, when you need it.
We understand the nature of the business leads to last minute scheduling changes, issues and delays. Because of this reality, SMP Catering will always offer to have 1 to 2 staff members that will stay at your location to ensure that the food can hold for prolonged periods or be rushed for early break calls. We always work on your schedule. Customer service is a top priority; our service to you will ensure quality gourmet food and a helpful, friendly staff that helps maintain the professional flow of your shooting day.
All of our packages include individually wrapped utensils, napkins and menu display. Learn more about our COVID-safe practices.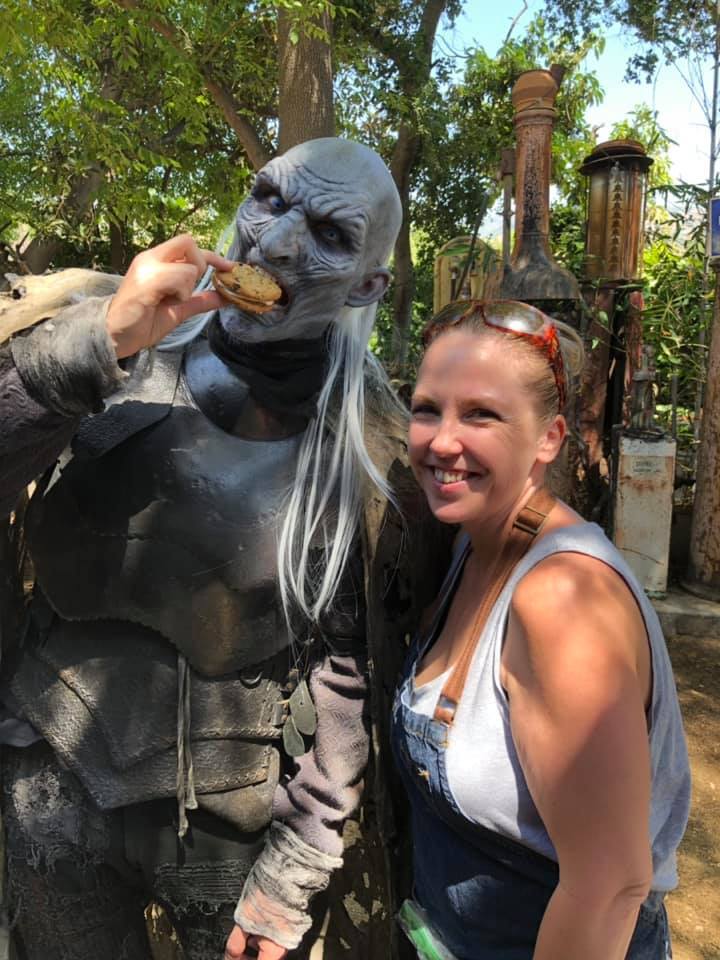 Satiating the Palates of Cast & Crew
SMP Catering enjoys creating delicious meals that satisfy the many different appetites, palates and dietary needs of cast and crew. We have options for everyone! From filling meat and potato stick-to-your-bone type dishes to the lighter healthier appetites with plenty of chicken, fish, salads and vegetable side dishes. We always ask if you have any vegetarian and vegan needs so we can plan for tasty options for them. Whether it's vegetarian and vegan dishes for the entire crew to enjoy or special options for specific individuals, either way we will customize a menu based on your cast and crew needs. In addition we are happy to accommodate common allergies such as gluten and nut, to more rare ones – we are delighted to provide something delicious for everyone!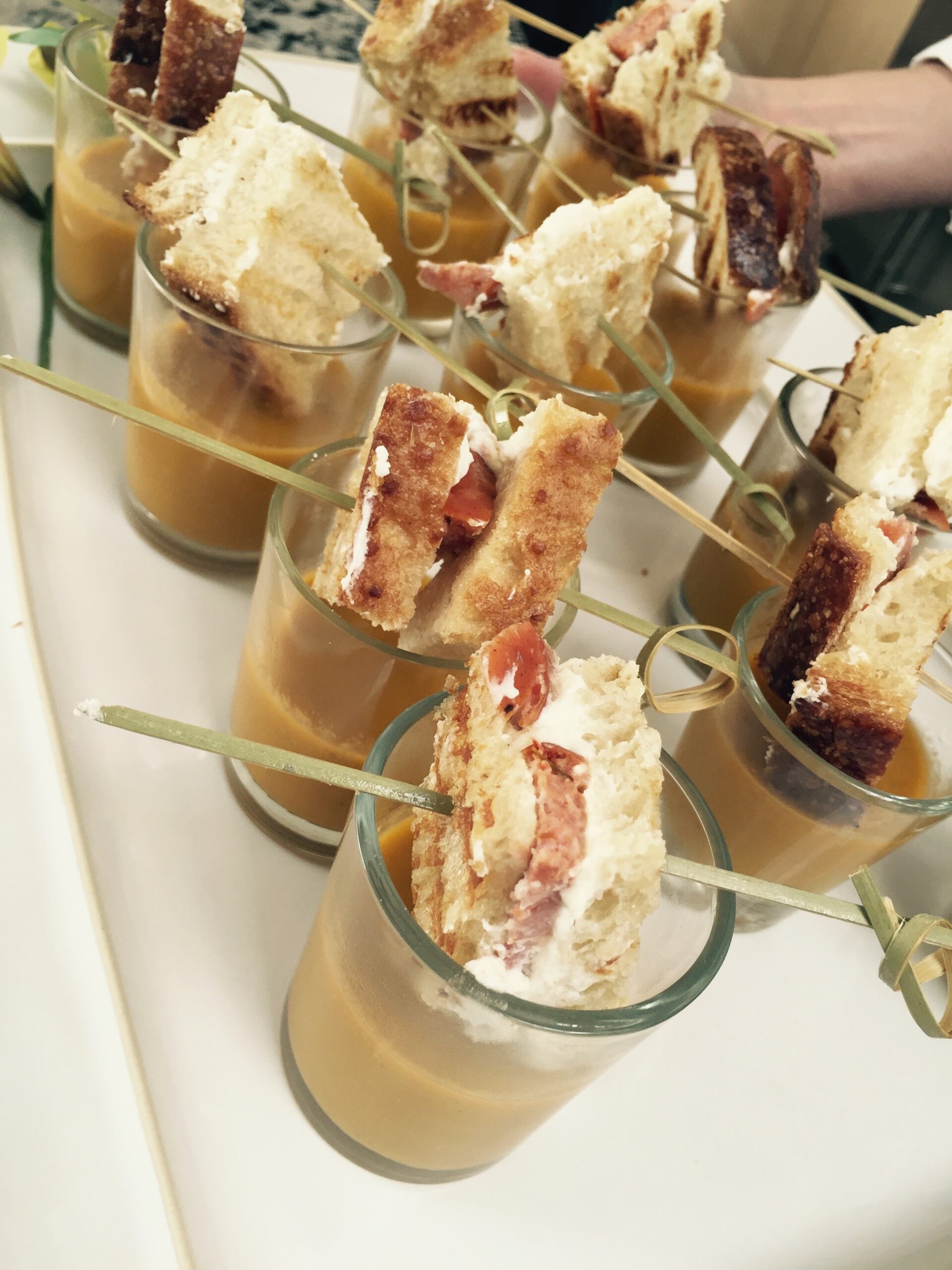 Special Requests
Whether you have a favorite menu that your crew enjoyed on a previous shoot and you want us to serve again, or a specific dish you want us to make, don't hesitate to ask and we will customize a menu for your shoot day. Additionally if you have special requests for talent, SMP Catering is happy to oblige!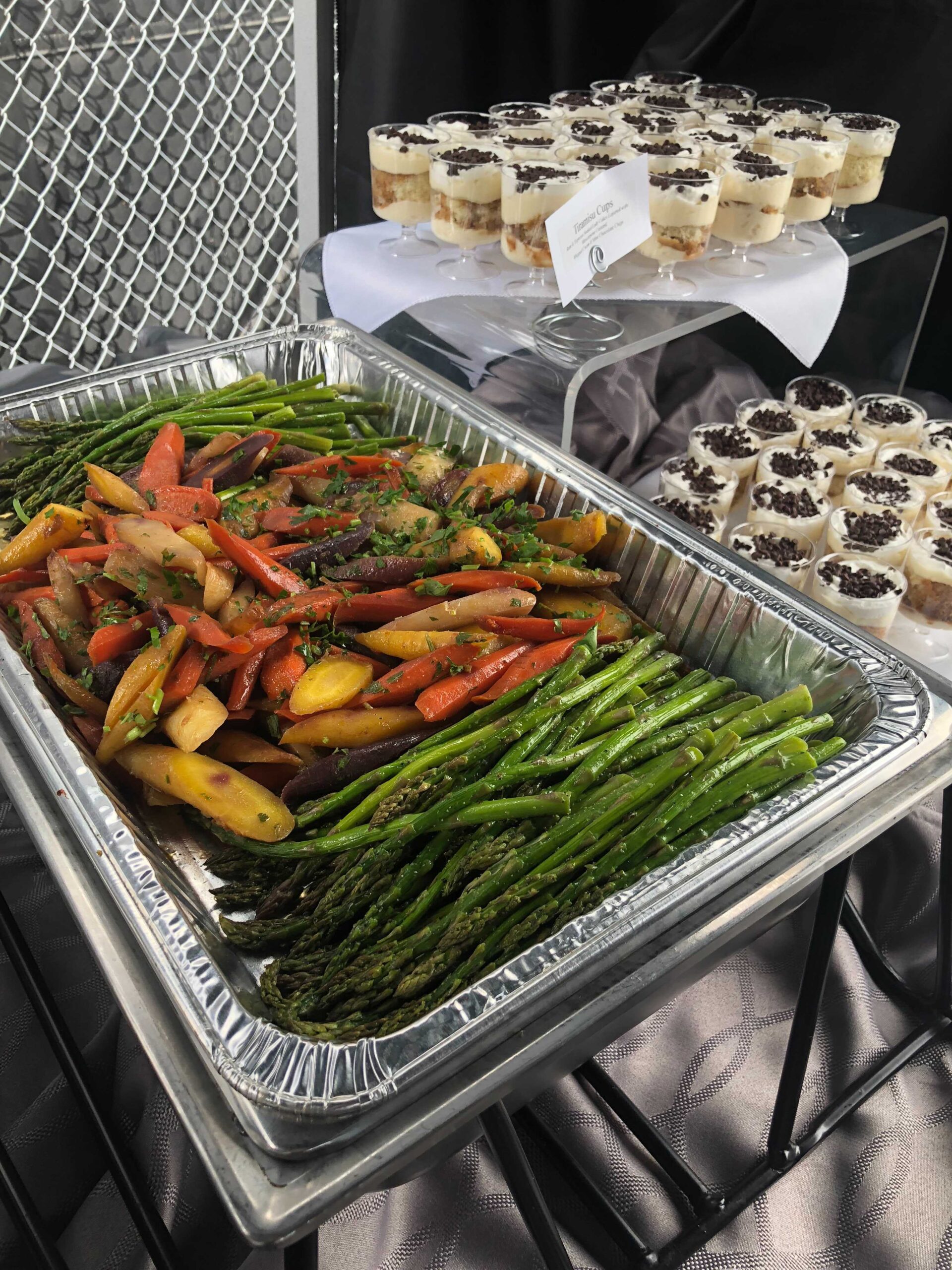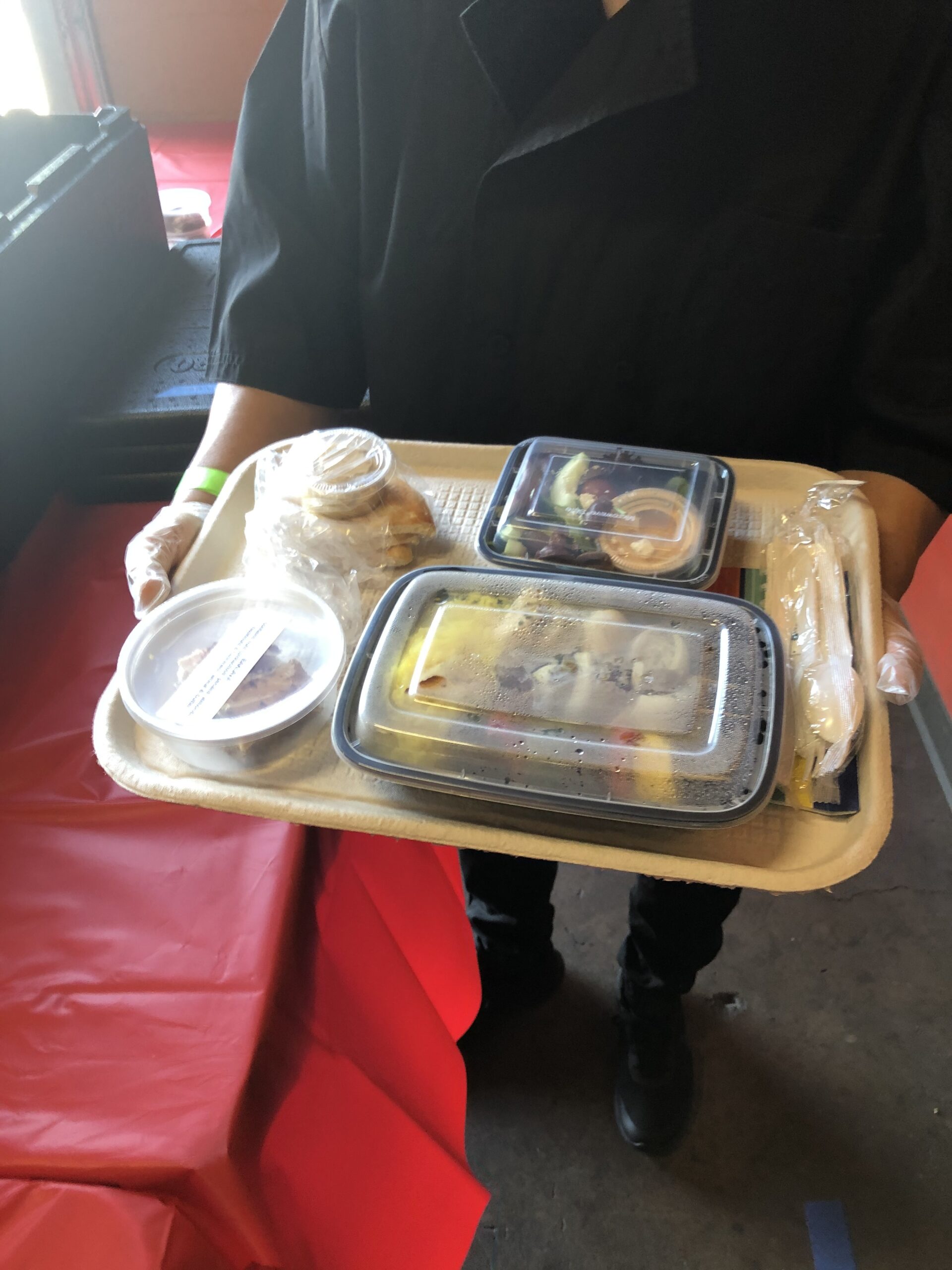 Packages
We have reinvented how our old buffets worked by having everything individually packaged so crew can pick and choose their options with the variety they prefer.  Think of it as a buffet in a box! Because of this crew will have a few containers to juggle so we also include an earth-friendly biodegradable food tray so crew members can carry their lunch with ease to their designated eating area. All of our packages include individually wrapped utensils, napkins and menu display. Find out more about how our catering is COVID compliant.  
Our Most Popular Packages
Our most popular packages are the 6 and 7-item options as described below. We have other combinations whether you want more protein entrees or side dish options, higher-end menus or have a smaller budget and need a lighter menu to make that happen.    
6-Item Menu
2 Protein Entrees
1 Salad
1 Starch Side
1 Vegetable Side
1 Dessert
7-Item Menu
3 Protein Entrees
1 Salad
1 Starch Side
1 Vegetable Side
1 Dessert
Menus
SMP focuses on fresh local ingredients to create amazing dishes. Because of this, our menus change not only by season but by the wonderful ingredients that inspire us. When ordering we will send you our current seasonal menu and chef specials to choose from. We also have a list of composed signature menu favorites to explore when deciding on your menu. In addition to your preferences and needs, we like to consider other factors when putting your menu together. The weather and your location can be big factors.   If it's a hot summer day the difference between eating inside in an air conditioned room versus eating outside in the heat under a tent can play an important role on the types of dishes that work better than others. Also if your meal times are the standard hour or staggered in a larger timeframe, certain menus work better than others.
SMP Catering is known for their smoked meats and we enjoy offering them throughout different menus. Here are a few popular menus with production:
BBQ Menu
MAIN
Hickory & Mesquite Smoked Chicken Breast & Hickory & Mesquite Smoked Brisket
VEGETARIAN/VEGAN OPTION
Grilled Vegetable Medley
Zucchini, Yellow Squash, Red Peppers & Mushrooms
SIDES Roasted New Potatoes (Vegan Friendly)
Succotash
Collard Greens, Carrots, Onion & Corn (Vegan Friendly)
Creamy Cole Slaw
Hawaiian Rolls
BBQ Sauce on the Side
DESSERT
Chocolate Chip Whoopie Pies with Marshmallow Frosting Filling
Spring Bistro Menu
MAIN
Chimmichurri Steak
Tarragon Pork Loin
Blackened Salmon
SIDES
Cauliflower Brussel Sprout Roasted Gratin (Vegan Friendly)
Wild Rice Pilaf (Vegan Friendly)
Spinach Salad Baby Spinach & Mixed Greens, Carrots Sautéed Shallots, Diced Fire Roasted Red Peppers with Champagne Vinaigrette
DESSERT Cookies and Cream Cupcakes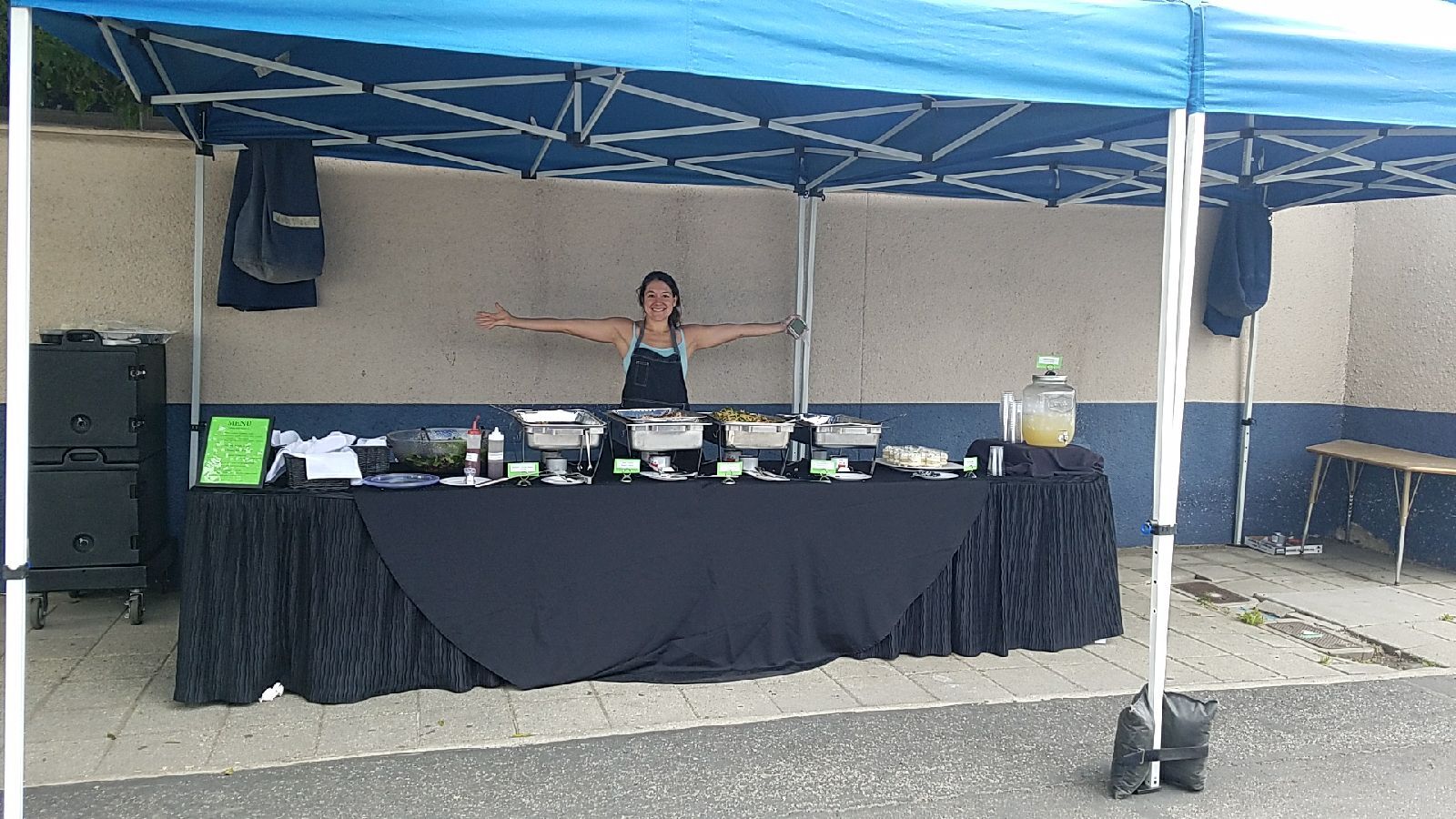 Full Craft Service and Drop-off Crafty
SMP primarily handles the catering end on set offering breakfast, lunch and dinner meals. Typically our craft service is an add-on to the catering order. We offer both full service and drop-off crafty. Our Full Craft Service includes staff on-site to pamper the needs of your cast and crew for the duration of the shooting day. We'll have coffee ready to go in the a.m., grab 'n go snacks, sweets and beverages throughout the day and special platters brought out between meals to enjoy. As with our planned catering menus, we relish coming up with creative and appropriate snacks for your shoot. If it's a late-night shoot, it's fun to roll out soup shooters and mini panini sandwiches to fuel up the crew in the cold. Or on hot summer days, fresh smoothies do the trick to cool and refresh crew in the heat. Days on set are long and hard work and feeding and fueling up the crew throughout the day is an important role we're proud to be in charge of. SMP Catering also offers Drop-off Crafty. Our staff will arrive and set up your craft station which will include our equipment kit rental (table, linens, coolers, baskets, serving dishes, beverage servers/bins, etc.) Our staff will return at the end of the day to tear down and load up the craft station. Our packages can start with the basics and also include platters for mid-day snacks in between meals. For more information about our crafty packages & pricing please contact us.